Type :  Dry rosé wine
Year : 2020
Varietals : Radisson – Marquette – white Frontenac 
Vinification :Alcoholic fermentation in thermo-regulated stainless steel tanks
Aging : A few months in stainless steel tanks
Tasting : Attractive salmon pink hue, field fruit aromas, freshness
Food and wine pairing : Fish tartare, salmon.
Alcohol content: 12%
Residual sugar:  <1g/L
Bottle : 750 ml
Serving Temperature : 8-10˚C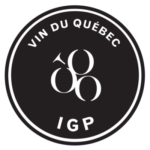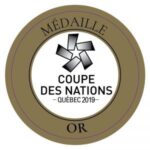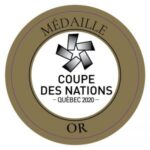 – IGP wines are a guarantee of quality for consumers and ensure traceability from the field to the bottle.
Hand-picked, this Radisson, Marquette, white Frontenac and Vidal blend is very aromatic. With its freshness, fruity aromas and beautiful colour, Rosée Matinale is synonymous with sunshine and conviviality. « The mind is to beauty, what the morning dew is to the flowers. » François-Joachim-de-Pierre-de-Bernis
Shipping
With the purchase of 12 bottles or more.
The delivery service is offered to you at a cost of $ 20, within a radius of approximately 50 kilometers.
Outside of this area there is a charge of $ 30.
Also, you can pick up directly at the vineyard at no cost.
Please be assured that delivery and pickup will be contactless. Questions ?
Frequently asked questions
When will I receive my order?
You should allow a few days before your order is delivered. Please note that the day before delivery, you will receive an email or a phone call telling you that you will have a delivery the next day or that you can pick up your order directly at the vineyard.
Be assured that the delivery and pickup will be contactless.
What will happen to my order if I'm not home?
At the time of delivery, if you are not there to receive the order, the delivery driver will try to reach you by phone, after which the order will be returned to the vineyard. We will contact you, in order to find an appropriate time for you to pick up your order at the vineyard or for a second delivery at your own expense.
Can my minor child receive the package?
According to section 103.1 of the Alcoholic Beverage Offences Act (L.R.Q.,c.1-8.1), a licensee may not sell alcoholic beverages to a minor. Nor can he sell them to an adult, if he knows that he buys them for a minor. As a result, Saint-Pierre Le Vignoble is entitled to require identification to ensure that the buyer and the person taking possession of the alcoholic beverages are not minors.