Type :  Oaky dry white wine
Year : 2021
Varietals : White Acadie
Vinification : Alcoholic fermentation and secondary malo-lactic fermentation in thermo-regulated stainless steel tanks with oak staves.
Aging : Several months in stainless steel tanks
Tasting : Pale yellow hue with yellow/green hints. Beautiful aromatic intensity: floral (white flowers, acacia), sweet almond, supported by a slight woodiness. The woodiness envelops the floral aromas in buttery and slightly vanilla notes. Volume and good length.
Food and wine pairing : Smoked salmon, shrimps, lobster
Alcohol content : 12.5%
Residual sugar: <1g/L
Bottle : 750 ml 
Serving temperature : 8-10˚C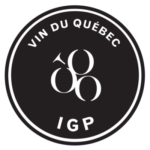 – IGP wines are a guarantee of quality for consumers and ensure traceability from the field to the bottle.
Harvested by hand, made from White Acadie. Parfum d'Acadie is characterized by a beautiful aromatic intensity: floral (white flowers, acacia), sweet almond, supported by a slight woodiness. The woodiness envelops the floral aromas in buttery and slightly vanilla notes. Volume and good length. « What would the experiments be for without the prospect of repeating them? Life, basically, is an infinite number of variations on the same theme. » Antonine Maillet